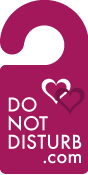 donotdisturb.com offers the finest stylish boutique hotels in the world to guarantee the perfect luxurious getaways!
Our website geniuses currently have their Do Not Disturb signs up until the website is complete.
To be the first to disturb donotdisturb.com, sign up today and we will notify you when the sign has been removed!
Whilst you wait patiently, why not check out Spabreaks.com.
Are you a hotelier? If so, please click here.