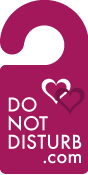 donotdisturb.com offers the finest stylish boutique hotels in the world to guarantee the perfect luxurious getaways!
Are you a hotelier?
Do you like the idea of getting more customers whilst putting your feet up and not being disturbed? Would you much prefer someone else to do the dirty work for you? Look no further, donotdisturb.com are here to help you dust the cobwebs off your Do Not Disturb signs! Enter your email address below and we will get in contact with you as soon as possible.
Whilst you wait patiently, why not check out Spabreaks.com.